Welcome to the official website of Fountain, MN.
The warm and friendly people of Fountain welcome you to our 150th Anniversary celebration on Saturday, July 27th, 2019 featuring the Fabulous Armadillos!! Save the date and help us celebrate our sesquicentennial. A schedule of events will be posted in the near future.
Fountain is a small town located just 30 miles south of Rochester. We have a historic past and scenic views. Fountain takes pride in being the home of the
Fillmore County History Center
and Museum. Our quaint town marks the beginning of the number one rated trail in Minnesota. The
Root River State Trail
is a 60-mile route encompassing 42 miles of former Milwaukee Railroad bed, winding along the Root River. Visitors to our city will enjoy...biking, hiking, rollerblading, cross-country skiing, and snowmobiling.
Join us for our Special Events:
60 Mile Garage Sales - June 21st & 22nd, 2019
Taste of the Trail - September 14th, 2019.
Fountain Lutheran Lutefisk & Meatball Dinner - First Saturday of October
Fountain United Methodist Women's Bake/Craft Sale and Luncheon - Second Saturday of December
Santa comes to Fountain - Second Saturday of December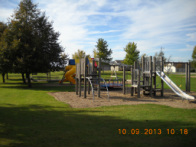 City Parks:
Trailside Park: Playground, volleyball and basketball courts, two bathrooms, and two open shelters.
Ball Park: Concession stand, two bathrooms, one open shelter, ball field, and batting cage.
Westside Park: Playground
Gazebo: On County Rd 8 by Hwy 52.





---